Retro Miami II/II: Coconut Grove
After completing our very short-lived trip to the Miami International Airport for our Global Entry Enrollment, we wanted to try exploring new areas of Miami. Luckily my boyfriend Chase did some internet browsing and stumbled onto a Reddit post about Coconut Grove. I always imagined Miami as the Manhattan of Florida, laden with concrete and constantly stirring with people, I couldn't have surmised what we were about to stumble on in Coconut Grove.
Coconut Grove is a picturesque neighborhood in the heart of Miami. As you escape the city, the outskirts begin to drip with vegetation, giving you a sense that wherever you are going, everything is going to be all right. The vines, roots, and branches combine to a lush tropical canopy that is as inviting as mother's bosom. As you are being ensnared into this beautiful spiral, you begin to see the signs of Coconut Grove, the oldest continuously inhabited neighborhood in Miami. When I think of why Florida was named the land of flowers, I think of this place.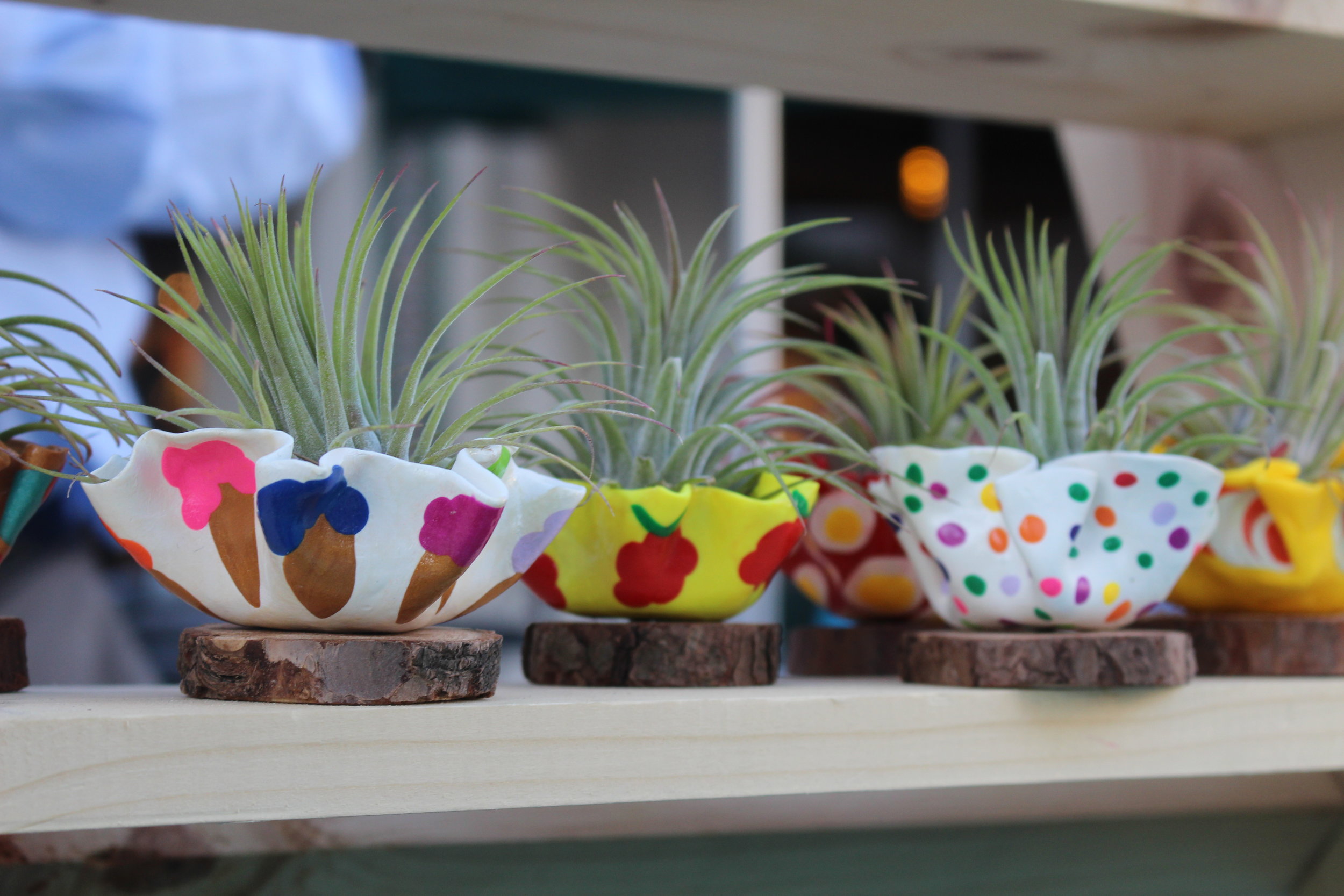 At the CocoWalk Plaza there was a market with many local artists, but only one stood out to me among the others. I'm a plant addict, this is my vice, and I will justify any amount of dollars for the love of plants. As I approached Gacato's vividly colored table, I was giddy with excitement to adopt a new plant baby. There are two things I can't say no to in this world, and they are the following:
Supporting our local artists
Air plants
I'm a chronic tillandsia killer because I keep bringing them into a household where my cats will brutally destroy them. Stella will hunt my air plants down and rip them into a million tiny pieces along with my heart. I came home one day and found my green baby child had met a most unfortunate fate in Stella's snaggletooth maw. I finally devised a plant haven so little ones can thrive safely, out of the reach of my domestic predators. Thanks IKEA for wall-mounted furniture!
I was able to take a polka-dotted clay pot home where it fit in splendidly with my tropical monochrome theme. All of Gacato's handmade clay pots have their own personality and will come with an adorable air plant. I adore how the artist is able to tie in her love of nature with these whimsical treats, she was amazing to talk to and truly has a passion for what she does. Follow her on Instagram for more colorful splendor @gacatoshop , you can DM her for any inquires on her little beauties. She also has a website, click here for direct link and prices listed.
After my exciting purchase and heartfelt conversation, I strolled through CocoWalk with what probably came across as a self-satisfied grin. I barely had any interest in seeing what the shops were like inside because of the gorgeous breezy weather being wasted indoors.
By day, Coconut Grove is a low-key tropical paradise. By night, it gets lit like a field of fireflies. We walked around aimlessly to the beat of the drum (there was a literal drum circle in the background somewhere near The Cloisters- a gated community). I usually have pretty good street sense when it comes to figuring out which establishments will be a great dining experience. Coming from NYC, there are a few ways to tell if a place is good or not. First, I usually look for a crowd or long lines, and if I want to investigate further, I will make small talk with a server or host to see how invested they are in the restaurant. When all fails, I always try to talk to locals, this can be an UBER driver or the employees of the local establishments. Be weary of getting info from your hotel concierge, as they will usually have promotional biases that can lead into a trap for a sub-par meal. There is nothing I detest more than spending hard earned money on food without passion. I digress, as we continued to walk along I caught a glimpse of a white door with "Vicky's House" written in an alluring retro font. Inside, emanated an orange glow, and I could see a bar swarming with people. I turned around to my crew and said, "We have to go there." Riveting, I know, as we are an easy going bunch, I heard the expected, "Okay," and marched right in. I almost couldn't catch my breath, inside was a milkshake bar festooned with the trappings of an 1980s Mom's Kitchen.
Matt Kuscher, the owner of Vicky's house, modeled the milkshake bar after the his mother Vicky Kutcher's kitchen. Every detail was replicated, from the wallpaper down to the refrigerator magnets. With Mother's day coming up, I don't think I can replicate this grand gesture of love and appreciation with flowers and Hallmark card.
Time was running out at this point and we really need to make our way back to the city, for one last hurrah.
In order to complete our retro tour of Miami, we could not think of a better place to top off the night than the 80s retro bar known as The Anderson . The decor included: cassette tape sconces, red tartan plaid wallpaper, arcade tables, glittery ceilings, and ghetto blasters lining the walls. We were also delighted to find that their food, service, and music was just as inviting at the decor. As fate would have it, the lighting was too dim for any of my original photography, I guess you guys have to see it for yourselves.